We clean area rugs and exquisite high-end Persian rugs. We also clean wall to wall carpet and upholstery.
Edmonton's #1 Area Rug Cleaning Services
Gorgeous Rugs wants to talk to you if you have an area rug that you need to be cleaned with absolute precision. We clean area rugs and exquisite high-end rugs. We specialize in hand-made rug creations, including Persian rugs, Oriental rugs, silk rugs, wool rugs and Kilim rugs. We understand your rug is a work of art and that the hand-made design must be handled with care. That is why we strive to provide you with delicate but thorough processes that leave your rug clean and in excellent condition. When you turn to us for your rug cleaning services, you get to take advantage of our 100% satisfaction guarantee. Our team is proud of developing the deep-rooted relationships with clients just like you, and we promise that you will be 100% happy with the cleaning services we provide. Please call if you have questions or concerns regarding the cleaning of your valuable rug. We are eagerly here to assist you.
Call Now and Get Free Pick-up and Delivery
Gorgeous Rugs wants to provide you with thorough cleaning at your convenience. For that reason, we offer free pick-up and delivery. Simply call and tell us about your type of rugs and we will come to your location for careful and delicate collection. We will transport your rugs to our cleaning facility, where your rugs will be cleaned with precision. We will then deliver your rugs back to you thoroughly cleaned and in excellent condition. The entire rug cleaning process can take five to seven business days to complete. You also may drop off your rugs at our store during our working hours.
Drop off hours: Mon-Sat 10:00 am to 5:00 pm
Drop off location: 9850 45 Ave (99 St. & 45 Ave) NW Edmonton
Email: info@GRugs.ca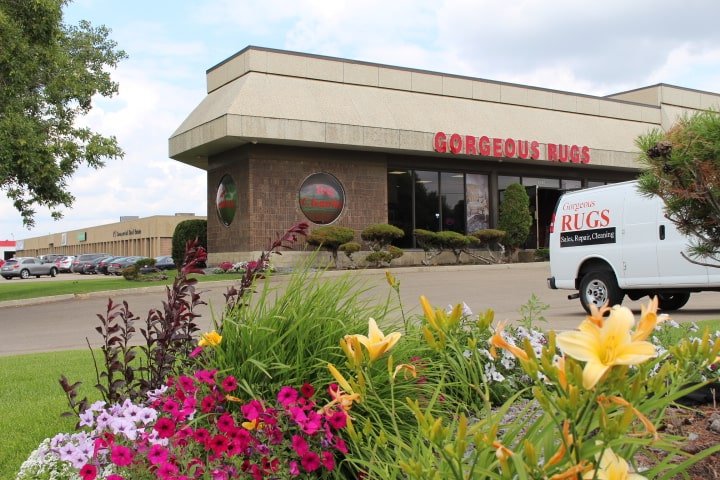 We recommend that you have your rug professionally cleaned every two or three years for low-traffic areas. For high-traffic area rugs, we recommend rug cleaning every year.
Our Six Stage Rug Cleaning Process:
1. Inspection:
Our rug cleaning experts will thoroughly inspect your rug to identify staining, color-runs, and damage of any kind. If you have special requests, these areas will be inspected as well. The entire piece will be checked, from the main pile and fringes to bindings and back.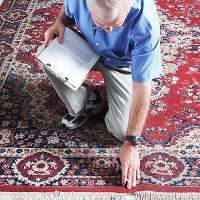 2. Dust removing:
Once your rug has been inspected, we work to remove the dust from every fringe and fiber. Dusting a rug is one of the most important aspects of the cleaning process. This is especially true for areas like Edmonton, which can be windy at times. Without proper dusting, dust particles can cling to the rug fibers and act like a sandpaper. A deep rug cleaning can remove all soil and dust to restore the soft consistency.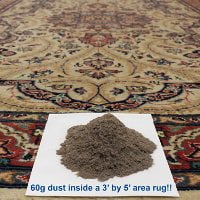 3. Hand-brush Fringes:
We take great care to ensure the fringes of your piece remain intact without fraying. We only hand-brush the fringes of your rug, making sure to remove spots and stains. We remove spots and stains using eco-friendly detergent with the proper water temperature.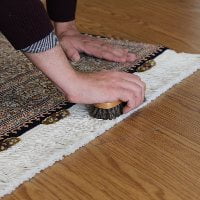 4. Main Pile Cleaning:
We use eco-friendly detergents and the appropriate water temperature to clean your rug fiber by fiber. We then extract the water from your rug using heavy-duty vacuum extractors. Our trained rug cleaning technicians use precise methods that prevent color-runs and damage. We never use conventional steam cleaners or equipment that causes damage of any kind. Instead, we use hand-washing techniques that work slowly but surely to get your specialty rug clean.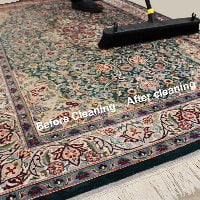 5. Hang to Dry:
Once all the water has been extracted from your rug, we hang your rug so that it can air dry naturally. We never use direct heating to protect the natural fibers.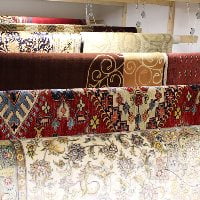 6. Final Inspection & Delivery:
We inspect every inch of your rug to ensure quality cleaning control. Once our trained technicians are satisfied that your rug is adequately cleaned and dried, we get your rug ready for delivery. The entire process of cleaning a specialty rug takes five to seven business days. If you need your rug back sooner, please let us know. We will do our best to accommodate rush jobs on a case-by-case basis.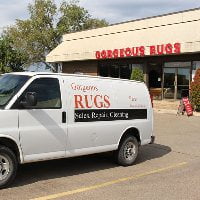 Rug restoration
For quality rugs that have lost their luster, Gorgeous Rugs offers rug restoration services with a satisfaction guarantee. If your rug was damaged due to flooding or other damage, give us a call as soon as possible. We can pick your rug up and deliver it at no charge, or you can bring your rug into our shop. We will have your rug cleaned and dried as soon as possible.