Persian and oriental rug repair in and near Edmonton
If you're not 100% satisfied, we don't expect you to pay.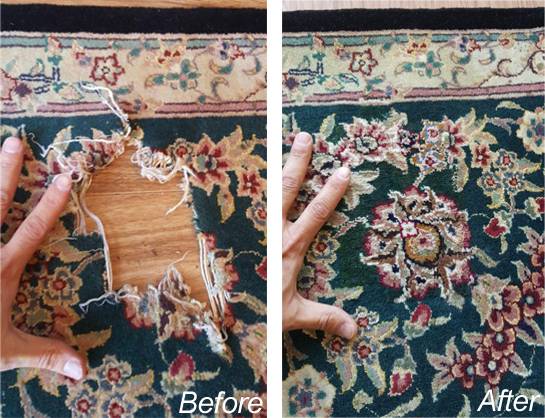 Gorgeous Rugs wants to repair your speciality rug with a 100% satisfaction guarantee! We can repair your rug to your specification, or your money back. We are the only store in Edmonton and have over 100 years of combined experience repairing Persian or Oriental rugs. We strongly believe that these hand-made rugs are works of art that should be handled with delicate processes. That is exactly how we approach every rug in our care. Turn to us when you need your rug repaired or the fringes, bindings, and damages to the main pile. We can have your hand-made wool or silk rug returned to you in all-new condition or you don't pay a thing. Also, we provide carpet binding & finishing. Call now to discuss rug repair done right and ask about our free pick-up and delivery for all Persian and Oriental rugs.
Edmonton Rug Repair Services
Fringe Repair: We specialize in worn-out fringes, particularly those caused by pet chewing.
Binding Repair: Think your rug is ruined because the binding is ripped or torn? Think again! We can have your rug binding fixed up like new.
Main Pile Reweaving: Your specialty rug is a work of art. Our main pile reweaving services will restore the artwork so that your rug once more shines like new.
Carpet Binding/Finishing: We offer carpet binding & finishing. Contact us for more details.
Color-Run Removal: To preserve your rug to like-new quality, we may have to restore colored dyes and remove stains related to wine spills, pet accidents, wax drippings, and water stains.
Cutting and Alterations: In some cases, rug repair requires some sections to be cut away. Or, perhaps you have an idea to repurpose your rug or combine it with another for a customized look and style. Tell us your rug repair needs and we will do our best to accommodate you.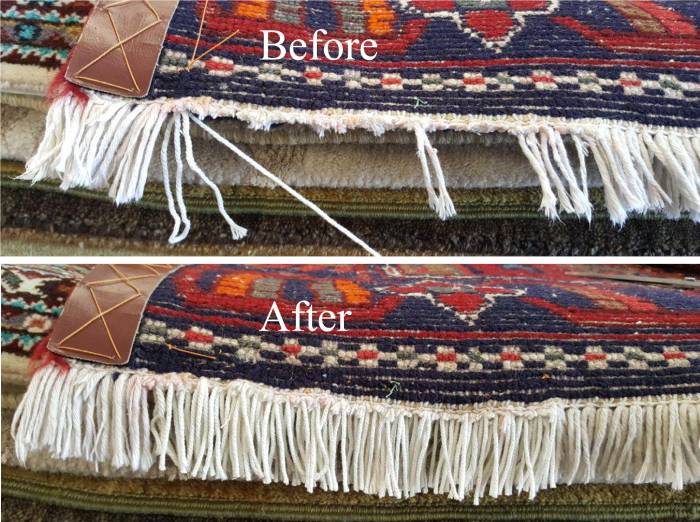 Call now for rug repair in Edmonton, St. Albert, Sherwood Park, Fort Saskatchewan, Nisku, Beaumont, Spruce Grove, Stony Plain, Leduc, and Devon. We offer free pick-up and delivery and guarantee that your rug will be repaired to your satisfaction or you will receive a complete refund.
Please see the images of the rugs we have repaired so far, then call us to discuss your damage for low-cost rug repair done right.