End of the Year Sale! Up to 50% off!
Shop Online or Visit Our Store – Buy Now, Pay Upon Delivery!
'Gorgeous Rugs' is a one-stop destination where rug lovers can find a wide range of rugs as per their choice and needs. If you are looking for Persian and Oriental rugs, you should head straight to our showroom in Edmonton. Our large inventory is packed with a variety of top-quality, stylish and captivating rugs, meticulously designed by expert craftsmen. The rug collection is so huge that it caters to every taste and budget. Whether you like modern or traditional rugs, you will find exactly what you need. We have been operating in this area for the last 60 years, and we serve you with services such as carpet and rug cleaning, rug restoration, repair, and appraisal. What you will really like about our sales is that you can first take the rug home and see for yourself if it is ideal for your interior decor. Pay only after you have found a perfect match.
Gorgeous Rugs
, we understand that even the most delicate rugs need a deep cleaning. You can always trust your area rug to us, as we hire only the most professional team for Persian and Oriental rug cleaning done right. When you choose us for your rug cleaning needs, you get the following benefits in a single order.
Satisfaction Guarantee: You are assured to be 100% satisfied with our area rug cleaning service or you get every dime refunded, no questions asked.
Free Pick-Up and Delivery: We strive to remove the stress from the entire process of keeping your area rug clean. We can come to you to collect and drop-off your rug for your ultimate convenience.

Efficient Service: We never rush a job and yet we never want you to wait for your rug to be cleaned. To save you time and frustration, we strive to have your rug back to you and thoroughly cleaned within a period of five to seven business days.
Comprehensive Area Rug Cleaning: We can clean all types of rugs, including Persian rugs, Oriental rugs, and those made of silk and wool. Find out if your rug qualifies for our cleaning services by calling at your convenience.
A Deep Clean: Your special rug will be cleaned using our six-phase deep clean process.

Inspection: Our rug cleaning experts will assess your area rug for soils and spots, as well as damage. We choose the cleaning agents and techniques based on the type of rug you have and the extent of the cleaning to preserve the beauty your rug displays.
Dust Removal: Before the deep cleaning process begins, we dust your rug to ensure that all particles are removed from every fiber. This process is done carefully and slowly to ensure a thorough job.
Fringe Cleaning: The fringe of your rug must be cleaned separately from the main pile of your rug. We hand-brush the fringe, taking care that each fiber is adequately cared for. For spots, we treat each one with an eco-friendly detergent at the appropriate water temperature.
Main Pile Cleaning: The bulk of your area rug will be cleaned at the proper water temperature and with the same eco-friendly detergents. We then extract the water from your rug using heavy-duty vacuum appliances. Using these methods, we can preserve the color and overall appearance of your rug without damage.
Drying: Your rug will be hung to dry naturally. We never apply direct heating to any rugs we clean. Air drying helps to protect the natural fibers that make-up your valuable rug.

Delivery: As the final steps, we inspect every inch of your rug to make it ready for delivery. If your rug exhibits staining, we will spot-remove any stains at this stage. The entire process takes around 5 to 7 business days. If you need your rug cleaned sooner, let us know and we will do our best to accommodate you.

View our cleaning page for more information.



Bring your unique rug to us or call for pick-up to take advantage of our professional rug repair services in Edmonton, St. Albert, Sherwood Park, and surrounding areas. We have the best repairmen with over 50 years of experience repairing rugs from all over the world. He can repair rugs that have sustained all types of damage including Fringes, Bindings, Main Pile, Moth Damage, Color-Running, etc. Each rug repair comes with a 100% satisfaction guarantee or your money back. Also, we provide carpet binding & finishing. We firmly believe that each Persian rug is a piece of art. Therefore, we strive to treat each rug in our care with the strict level of attention it deserves. You can contact us to learn more.
Click to see photos of Persian and Oriental rugs we have repaired so far.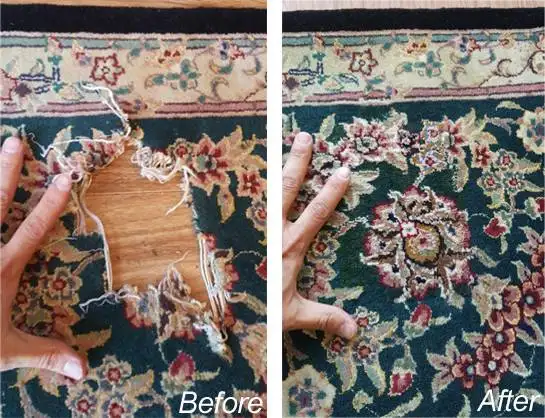 Bring your exquisite rug to Gorgeous Rugs for an official appraisal certificate. We regularly work with insurance companies and individuals and can provide you with all the information you require regarding your rug's value and history. Many people remain unaware that Persian rugs gain value over time. Come to us or we can come to you for a certified rug appraisal that showcases the true value of your one-of-a-kind Persian or Oriental rug. Please visit our appraisal page for more details.
1. Persian Rugs Never Go Out of Style.
2. Persian Rugs are Chemical-Free Decor.
3. Central Piece of Your Home Décor.
4. Eye-Catching Designs and Motifs.
5. Persian Rugs are Highly Durable.
6. Available in Multiple Sizes.
7. Persian Rugs are a Real Investment.
8. Make Your Home Gorgeous.
9. Persian Rugs Keep Your House Warm.
10. They won't Damage Hardwood Floor.
11. Persian Rugs are Low-Maintenance.