The word Persian comes from Persia, which is another name of Iran. Rugs made in Iran are referred to as Persian rugs. Whether or not you have furnished your home with this gorgeous decor item, you must have definitely heard and read about the attractive looks and design of these rugs. Persian rugs are a coveted decor item with which to enhance the overall interiors of a home, mansion or apartment and symbolize status and wealth. People have been using these oriental, wool and silk rugs for centuries all over the world. Though these rugs are one of the most expensive home decor products on the market, they offer a wide range of benefits for homeowners. Key characteristic features of a Persian rug include intricate patterns, distinctive weaving style and an array of lively colors. When planning to buy these rugs, you should always rely on only reputed rug stores and dealers to make sure you get superior quality products. Given below are some of the key reasons why you should invest in these decor items to complement the interiors of your home.
1. Persian Rugs Never Go Out of Style
The field of interior design is a highly dynamic one. New trends replace old ones and this goes on. But Persian rugs are special because they continue to symbolize class for centuries. They remain trendy forever. Buy a Persian rug and use it to complement the space in your home or apartment. What you will notice is that they look fashionable all the time, regardless of many other interior designs or decoration trends. You invest in these rugs once and these products keep satisfying your tastes for years in a way that is truly admirable. These traditional rugs feature unique design patterns and colors which have received appreciation from all corners of the globe for centuries. Persian rugs don't compliment just traditional spaces, but they can add visual appeal and charm to a wide range of modern homes, mansions and apartments as well.
2. Persian Rugs are Chemical-Free Decor Items
One important concern for many homeowners is to stay away from products that have harmful chemicals or release toxins. You will never have to worry about this issue when you buy Persian rugs. Persian and Oriental rugs are made from natural fibers. Plus, the dyes used to color the rugs are also natural. Manufacturers use vegetable dye to lend vibrant shades to these rugs and carpets. This means 'no chemicals in the house'. This is especially beneficial if you have kids and pets in your home. Persian rugs ensure an allergen-free living environment. Which is more, these traditional rugs and carpets are not highly flammable either, enhancing safety even more.
3. Central Piece of Your Home Decor
No matter where you put Persian rugs, they will always attract attention. You can either lay down the rugs in a hall or room or you can hang these items on the wall to make a style statement for your home. If you plan to make a grand statement, you can lay Persian wool or silk rugs at the entry of your home. These traditional rugs can be added to hallways, living rooms or any other room as per your needs. You can even put Persian rugs under the dining table to create a classy look. These hand-knotted rugs are so beautiful that they will become the center of attention. It is the versatility that homeowners like the most about these traditional items of decor. Most of all, the creative design of Persian rugs blends quite well with modern home decor. Based on your specific needs, you just need to find the right color, pattern and style to create a style statement. Feel free to check out 'Gorgeous Rugs', one of the broadest collections of these rugs in Edmonton to find one you like the most.
4. Eye-Catching Designs and Motifs

Every region in Iran (Persia) is known for its range of unique products. Iran is the most famous country in the world for its beautiful rugs. Hand-knotted rugs of Iran are admired in every part of the world. Lovers of art keep and care for these rugs as incredible works of textile art. It is interesting to note that the style and patterns of no two Persian rugs are exactly the same. Each Persian rug is unique in its weaving, colors and patterns. Hundreds of years of experience is invested in the creation of designs and motifs that make these silk and wool rugs one of the most loved and coveted home decor items.
5. Persian Rugs are Highly Durable
One of the key features of Persian rugs is their solid construction. They are not just attractive, but also very durable. Rug weavers have a deep passion for showcasing their art to the world level and being admired for their exceptional work. Hand-knotted, traditional rugs are particularly known for their superior quality. Each strand of the rug is knotted by hand by highly skilled and experienced weavers and designers. These rugs are so strong that you can place them in high-traffic areas without any worry. They have the potential to endure high footfall while retaining their look and quality. A quality Persian rug will last for more than 100 years, offering great value for money.
6. Persian Rugs are Available in Multiple Sizes
Before you head to a rug shop or store to buy an Oriental rug, you should first determine what size you actually need. You can decorate a small room or a big living hall with elegant Persian and Oriental rugs made of silk and wool. Size is not going to be an issue, as you will find these rugs in a wide range of sizes. Designers create rugs of multiple sizes including small, medium, large and extra-large as well as round and runners. Oriental rugs are available in different sizes such as 2×3 feet, 3×5 feet, 4×6 feet, 5×7 feet and other large sizes. It is also possible to resize a Persian rug. However, resizing can only be done by experts as it requires a great deal of expertise. To find the size of Persian rug you need, feel free to reach out to 'Gorgeous Rugs' in Edmonton. We bring you a vast collection of top-quality Persian silk and wool rugs.
7. Persian Rugs are a Real Investment
You invest money in a number of things and products. There are some investments that will make you feel proud. Buying Persian rugs is one such investment, which will bring you lasting joy and happiness. The quality of machine-made rugs deteriorates over time. Unlike these, Persian rugs are hand-woven, heirloom products. That is why these traditional rugs last for generations. Think of these rugs as great pieces of art that can be passed down from parents to their children and grandchildren. In fact, the monetary value of authentic Persian rugs goes up over time. That is why buying one or more of these rugs is considered as an investment in the truest sense of the word.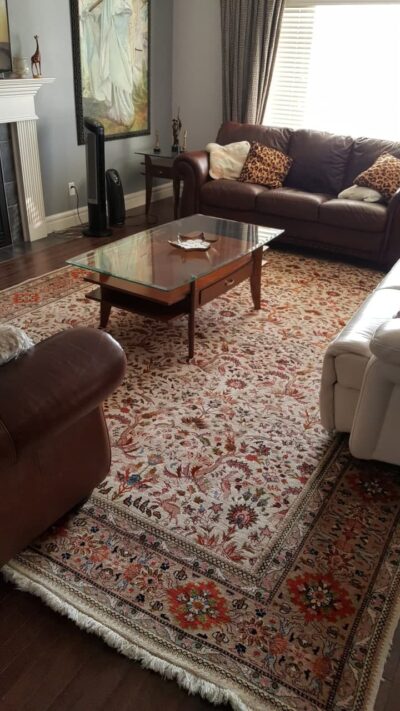 8. Persian Rugs Make Your Home Gorgeous
Every homeowner wants to make their home or apartment look beautiful. While you add other elements of interior decoration to beautify your space, you should certainly add Persian rugs to enhance the overall effect of manifolds. These products will turn your space into a gorgeous space. All you need to do is to select the right style and size of Persian rugs to fit well in a space. Large size rugs are for large spaces such as halls and living rooms. For hallways, you can buy runners, and have a Persian rug beneath the dining table. Smaller Oriental rugs can be placed at the side of beds, or you can have a 9'x12' or 8'x10' rug under your bed. There are so many other ways in which you can lay rugs on the floor or hang them on the walls to create great visual appeal.
9. Persian Rugs Keep Your House Warm
The main idea behind the origin of rugs was to offer comfort. Persian rugs are a great addition to a home for warmth and comfort. During the winter months in Edmonton, you will need to use various ways to warm up the interiors of your home or apartment. When you wake up on chilly mornings, you will never want to step or walk on chilly floors. Persian and Oriental rugs offer an excellent way to create additional warmth in your house. This is particularly helpful in countries where the mercury in winter dips to sub-zero. Iranian rugs are made from thick fibers, which give a feeling of warmth under the feet.
10. Persian Rugs Don't Damage Hardwood Floor
Hardwood is a popular and much-preferred flooring option for a lot of homeowners. It is also a symbol of status for people. When buying rugs, you should carefully weigh your options because every type of rug is not ideal for hardwood floors. For example, machine-made and synthetic rugs may create scratches on the floor. So, you need to invest in rugs and carpets, which do not just enhance the interiors of your home, but they also keep the hardwood floors free from scratches or marks. That is exactly where Persian rugs fit in best. Made from natural fibers, these rugs are very soft and do not scratch the floor. This means you don't have to worry about damage to your hardwood floor.
11. Persian Rugs are Easy to be Cleaned
Most people would think that Persian rugs need a great deal of maintenance to retain their original quality. But you should be surprised to know that these traditional rugs are actually low-maintenance items. Of course, Persian rugs feature creative designs and intricate patterns. However, one key characteristic of these rugs is the manner in which they are woven. Designers and weavers focus on the tightness of knots when creating the Persian rug. In fact, the rugs are so perfectly hand-knotted that it becomes very hard for dust or dirt to settle on it or enter into its pores. Simply take the rug outside and give it a good beating with a stick and all the dust will go away. At the interval of every two weeks, you should vacuum the rug to freshen it up and restore its newness. If your Persian rug has stains or gathered too much dirt, you just need to give us a call at Gorgeous Rugs; we'll take care of your rugs. After getting a thorough cleaning, Persian rugs get back their brand-new look due to the use of natural wool in their construction.
Are You Planning to Buy Persian Rugs?
At our showroom, you will come across a wide variety of area rugs and carpets. What is important is that you have at least some knowledge about the type of rugs you are actually looking for. If you plan to buy Persian rugs, you should always visit a reputed and trusted showroom or rug store. You need to invest only in the finest quality of authentic Persian rugs made in Iran. Moreover, you need to select the right style, color and pattern to complement the decor of a room or add artistry to a modern home or apartment. When buying a Persian rug, you should remember to look at the back as well as the front of the rug. At 'Gorgeous Rugs', we bring homeowners one of the broadest collections of genuine, hand-knotted Persian rugs. Our inventory features a wide range of attractive styles, vibrant colors and beautiful patterns. Our products are competitively priced to suit every budget as well. Feel free to visit our store on 99 street and 45 avenue in Edmonton to check out our latest collection of exquisite rugs. For further details or any type of information you need in regard to rugs, please reach out to us via a phone call or an email. Also, we provide rug cleaning and repair services in Edmonton, St. Albert, and Sherwood Park.